15 Jul

HOW TO MINIMIZE THE APPEARANCE OF PORES!

Skin is the largest organ of the body. It contains millions of pores, even if most of them are not visible to the human eye. All of these pores are open, allowing the skin to "breathe." Pores are the tiny holes located everywhere on your skin, covering the skin of your face, arms, legs, and everywhere else on your body. Pores allow sweat and oil to escape through your skin, cooling you off and keeping your skin healthy while getting rid of toxins. They are the openings of hair follicles. Each pore also contains sebaceous (oil) glands that make an oil called sebum.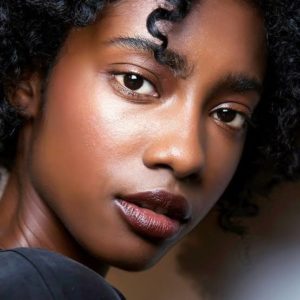 The sebaceous glands are most abundant in the pores on your face, back, chest, and groin. Hormones plays a role in stimulating these glands in order to produce more abundant quantities of sebum. That's why the pores on your face, most specifically those on your nose, forehead, and cheeks, may appear larger than they do on other areas of your body.
Here are some tips that can help minimize the appearance of pores:
CAUSES OF LARGE LOOKING PORES
The key to finding what works for you may depend on figuring out what causes your pores to look enlarged. There are several causes of large-looking open pores. They include:
• High levels of oil (sebum) production.
•Reduced elasticity around pores.
• Thick hair follicles.
• Genetics or heredity.
• Reduction of collagen production in skin, caused by aging.
• Sun damage or overexposure to the sun
There are many ways to minimize the appearance of your pores. Check out these tips!
1. WASH WITH CLEANSERS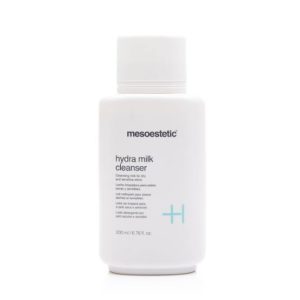 Skin that's often oily, or has clogged pores, may benefit from using a daily cleanser as this can minimize some acne symptoms and keep your pores clear.
It is best your Aesthetic Doctor prescribes a cleanser suitable for your skin type.
2. STEAMING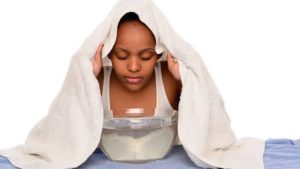 It may seem unrealistic to sit in a steam room to close your pores. After all, steam opens up your pores and makes your body produce sweat. But it's possible that your pores look enlarged because there's dirt, oil, or bacteria trapped inside of them.
Find a steam room and spend 5 to 10 minutes opening up your pores before getting a clean towel and carefully washing your face outside of the room. Your skin might appear firmer afterward.
Immediately after steaming, take a clean washcloth and dip it in warm water before applying it to your face for a minute or two while it cools. This will help your pores to close after the steam has opened them up, and keep new bacteria from entering.
3. EXFOLIATE YOUR SKIN
Exfoliating your skin helps remove the things that clog up pores, such as oil and debris. Exfoliation helps in removing any dirt or contaminant on your skin's surface, along with the dead skin cells that might have built up. This will generally make your face appear smoother, more firm, and yes — less porous.
Your Doctor will prescribe a suitable exfoliating Product that is safe for you to use.
4. USE OF FACIAL MASK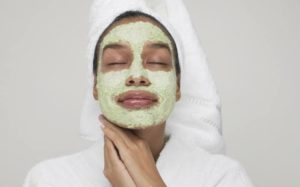 A quick way to reduce inflammation and the appearance of acne scarring is to use a facial mask. Facial masks work to minimize pores by drying out the sebum underneath your pores, as well as sticking to impurities and pulling them out as the mask dries.
5. TRY A CHEMICAL PEEL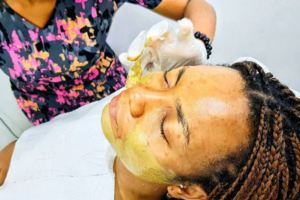 If your pores look enlarged because your skin is producing too much sebum, it might be time to try a chemical peel. Peels can help regulate sebum production, and promote the growth of new skin cells to replace older, damaged cells.
This must  be recommended by a certified Aesthetic Doctor as these peels can make your skin more sensitive to sunburns.
See video of our client Having superficial peel done via the link below:
PREVENTIVE SKIN CARE
You can't change your heredity or your age, but you can adopt a proactive skin care routine geared toward reducing the appearance of open pores. Steps include:
• Daily cleansing of your skin.
• Exfoliate at least 2-3 times in a week.
• Keep your skin protected from the sun by wearing sunscreen every day.
• Opt for noncomedogenic skin care products that don't clog pores.
• Always moisturize your skin, even if it's oily. There are moisturizers designed specifically for this skin type.
• Use collagen-boosting products that contain antioxidants, which may also be beneficial for keeping your skin healthy.